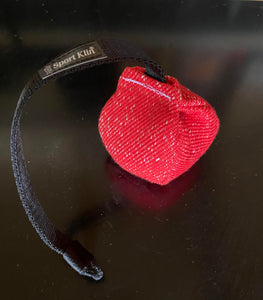 Einzweck Dogquip
ABC SPORT KLIN LEATHER & FRENCH LINEN REWARD BALLS
Regular price
$19.00
$0.00
Tax included.
Shipping
calculated at checkout.
ABC SPORT KLIN Reward balls are made from durable leather and french linen and are built around soft silicone padding.
These balls are great for puppies, young dogs and those with a soft to medium grip. These are great for helping your dog with engagement training and and is easy for your dog to get a big full bite of the ball
Approximately 90 mm across , they are a great sized ball for a lot of breeds and come with a study webbing handle with a sewn folded end 
No toy is 100% indestructible. It is unrealistic to expect that from any toy. 
The toys that we sell here are the best quality and most durable that we have found. Always supervise your dog when playing with toys. Periodically inspect all toys for damage. Do not allow your dog to continue to play with a damaged or broken toy. This product is designed to be used under direct supervision with a dog.
---