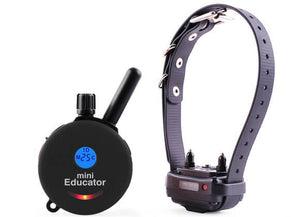 Einzweck Dogquip
ECOLLAR TECHNOLOGIES - ET-300 Mini Electric Dog Training Collar
Regular price
$360.00
$0.00
Tax included.
Shipping
calculated at checkout.
The world's best remote dog training e-collar for basic obedience and behavioral training!
5 star rated by our customers, the Educator ET-300 Mini is the most versatile dog training collar on the market and by far our top seller. Weighing in at only 2.4 ounces, this miniature Educator collar is light and gentle enough for dogs as little as 5 pounds with sensitive temperaments, but powerful enough for larger dogs, too. Featuring vibration and tone only modes and 100 level of medical grade static stimulation (similar to a TENS machine) allows you to fine-tune the collar to your dog's exact temperament and, the Lock & Set feature allows you to save that setting directly into the remote.
The Educator ET-300 Mini comes with the stopwatch-style handheld transmitter, ergonomically designed with buttons right at your fingertips so that you'll never have to take your eyes off your dog during off-leash training. Low battery indicators on both the receiver collar and transmitter and a two-hour quick charge. The waterproof design on this remote training e collar ensures that your collar will continue to work even if submerged in water. As a safety feature, the powerful remote-controlled night tracking light on the receiver collar keeps your dog safe and visible at night.
Educator ET-300 Mini Features:
1/2 Mile Range
Low to Medium Power
100 Levels Dial Adjustable with "Lock and Set" Feature
Tapping Sensation (Non-Stim Vibration)
Tone Option
LCD Transmitter Display
Low Battery Indicators (Transmitter and Receiver)
Lithium Polymer Batteries (2 hour Rapid Charge)
Lost Transmitter Locator Function
Remote Activated LED Collar Light
Waterproof (Transmitter and Collar)
Heavy Duty Biothane Collar Strap
User Expandable to a Two Dog System
Made in the USA
Whats in the Educator ET-300 Mini box:
One Waterproof Miniature Collar Receiver
One Waterproof Miniature Floating Remote
One ¾" X 30" Biothane Collar (Ready to Be Cut to Size)
Two Sets of Contact Points (5/8" and ¾")
Contact Point Removal Tool
Dual Battery Charger (120V/220V)
Owner's Manual with Training Tips
Lanyard for the Remote


Educator ET-300 Mini Dimensions:
Collar Receiver: 2.0"X1.5X1.1", 2.4 oz.
Biothane Collar Strap: ¾" X 30", 1.46 oz. (Ready to Cut to Size)
Floating Remote: 2.64" Diameter, 1.29" Thick and 3.4 oz.
Complete System in Box: 11"X6.9"X2.2", 1.2 lbs.


The Educator ET-300 Mini comes with a 2 year / limited life warranty.
NOTE - transmitter colours may vary 
Laws relating to the possession and use of ecollars vary by state in Australia, including but not limited to prohibition. It is the sole responsibility of the purchaser to ensure they are complicit with local law prior to purchase. Einzweck Dogquip warehouse and ship from QLD in compliance with state law.
---