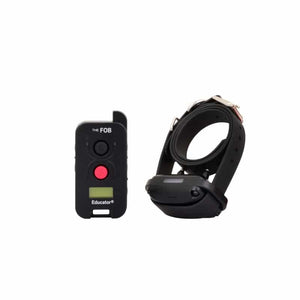 Einzweck Dogquip
ECOLLAR TECHNOLOGIES FE-560B FOB with WIRELESS FINGER BUTTON
Regular price
$450.00
$0.00
Tax included.
Shipping
calculated at checkout.
We are proud to present E-Collar Technologies' latest tool in their remote trainer lineup! Introducing the all-new upgraded FE-560B FOB Educator®!
The FOB Educator® features their smallest handheld remote and now with the addition of a wireless finger button that can be programmed to either buttons and the smallest receiver they have ever produced while maintaining an impressive range of up to 275 metres.
Of course, it wouldn't be an E-Collar Technologies remote trainer without our proprietary "blunt" stimulation now available in rising stim mode with user-adjustable timing between working level and maximum stim level.
Programmable S buttons can be set to stim, rising stim, tone, vibration high or vibration low.
Night tracking light also supported.
Fully waterproof and shock-resistant. 
Proudly assembled in the USA.
Laws relating to the possession and use of ecollars vary by state in Australia, including but not limited to prohibition. It is the sole responsibility of the purchaser to ensure they are complicit with local law prior to purchase. Einzweck Dogquip warehouse  and ship from QLD in compliance with state law.
---