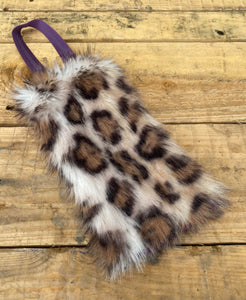 Einzweck Dogquip
SALTY MUTTS - FLUFFY POCKET 2.0 ( Puppy Flirt Tug )
Regular price
$28.00
$0.00
Tax included.
Shipping
calculated at checkout.
From our close personal friends at SALTY MUTTS we present 
THE FLUFFY POCKET 2.0 !!
They have taken our original design to the next level
30CM X 15CM
Made of faux fur making it vegan friendly , no soft fluffy cute animals were harmed only ethically bred , free range domestic nylons and polyesters were harmed 
Longer and wider than the original giving you the ability to stuff it with what ever your heart desires , old rags , dunny rolls or bubble wrap , with a strong velcro closure keeping it secure 
Our personal favorite filling is a 600ml plastic bottle with a couple of rocks inside , giving is a crunch and a rattle when bitten by pups 
Add it to a flirt pole for super animation or use it as 
Recommended for puppies through to 6 months and smaller adult breeds 
No toy is 100% indestructible. It is unrealistic to expect that from any toy. The toys that we sell are the best quality and most durable that we have found. Always supervise your dog when playing with toys. Periodically inspect all toys for damage. Do not allow your dog to continue to play with a damaged or broken toy.
---