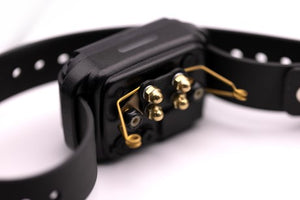 Einzweck Dogquip
ECOLLAR TECHNOLOGIES - CPAD-010 SOFT WING COMFORT PAD
Regular price
$65.00
$0.00
Tax included.
Shipping
calculated at checkout.
Soft Wing Contact Pad
Titanium wings  Brass points.
2 wings designed to reach the skin on dogs with short to medium single coated fur.
Not as aggressive as Ultra Wings. Alternative design to the Ultra Wings to avoid pressure sores.
Developed for dogs with single coated fur.
Best if used by breeds with hair similar to: Boxer, Beagle, and Bloodhound, Corgi, etc.
Compatible with:
ET-300
FT-330
ET-400
ET-800
UL-1200
EZ-900
PE-900
RX-090
RX-120
300TS
400TS
PLEASE NOTE THESE ARE A SPECIAL ORDER ITEM AND MAY TAKE SEVERAL WEEKS TO ARRIVE 
---