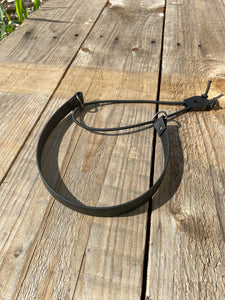 Einzweck Dogquip
DEATH GRIP - Ecollar bungee strap
Regular price
$32.00
$0.00
Tax included.
Shipping
calculated at checkout.
E-Bungee Collar is a replacement collar for Electronic training collars. The E-Bungee collar safely applies pressure to the receiver (keeping in contact with the dog) while keeping the dog comfortable and free to move. Easy on and off without fussing with buckling just right.
Made in the Australia using Genuine Biothane (NOT CHINESE COPY RUBBISH ) and Heavy duty bungee.
*These collars are to be used under supervised training. Not to be left on unattended!!!!
Compatible for all electric systems with 3/4 inch collars

Wheel Lock for extreme grip and optimal contact
Elastic traction system, lets the dog breath
No over-tightening possible
Practical quick closure for same contact every time

MADE IN AUSTRALIA 
PLEASE ENSURE THAT THE CHICAGO SCREWS ARE TIGHTENED OFTEN AND IDEALLY A DROP OF LOC TIGHT BLUE PLACE ON THE THREAD 

---