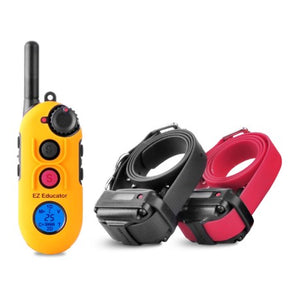 Einzweck Dogquip
ECOLLAR TECHNOLOGIES - EZ-902 2-DOG EASY EDUCATOR REMOTE DOG TRAINER
Regular price
$510.00
$0.00
Tax included.
Shipping
calculated at checkout.
Please note this is a special order item. Please contact us to place orders
The EZ-902 2 Dog Easy Educator allows handlers and owners to train dogs with safety in mind. It features a maximum stimulation setting and lock and set setting to provide safety from accidental overstimulation of the dog. This radius dog collar is designed with unique features making it the most humane and effective trainer available. The bar-shaped transmitter is especially well-suited for easy operation and is small providing stealth operation when the situation requires discreteness. The 2" by 1.5" by 1" EZ 902 2 Receiver provides plenty of stimulation for most dogs. Its unique control of stimulation (COS) technology lets off a very clean stimulation without the normal head jerking often found with other training collars. The boost feature is available to provide boosted stimulation from 1 to 60. The tapping sensation employed is similar to vibration, but more intense making it a good substitute for the stimulation. The ergonomic design of the remote allows the user to watch your dog. The night tracking light is controlled by the transmitter allowing the user to flash or continuously light up the collar receiver for locating your dog after dark. Lost transmitter beeper can be turned on to help locate a misplaced or lost transmitter. The EZ-902 radius dog collar will turn your bad dog good and your good dog better. We provide a variety of remote training collars for various training goals. 100% Satisfaction Guaranteed. Proudly Assembled in the USA.
PLEASE MAKE SURE YOU REGISTER YOUR ECT PRODUCT FOR WARRANTY 

https://www.ecollar.com/productregistration
Note - This is a special order item and not a stock Item .Please allow up to 30 days for delivery 
Laws relating to the possession and use of ecollars vary by state in Australia, including but not limited to prohibition. It is the sole responsibility of the purchaser to ensure they are complicit with local law prior to purchase. Einzweck Dogquip warehouse  and ship from QLD in compliance with state law.
---